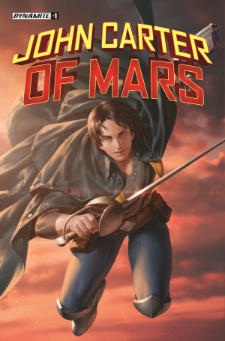 Award winning writer Chuck Brown (Bitter Root, Aquamen) is chronicling the next adventure of John Carter this April in a new series – John Carter of Mars.
The year is 1919. A mysterious asteroid composed purely of the substance "Ninth" hurtles toward Earth. Its power miraculously begins to meld and swap the peoples of Earth and Mars. The Warlord of Mars and former Civil War soldier John Carter suddenly finds himself ripped from everything he has come to know and love, pulled back to where he started. One day he's back in Virginia, but battling Martian apes in his homeland! Then what could possibly be happening back on Barsoom? And as these two worlds deal with this chaos, could their struggles collide?
"I've always been a huge fan of sci-fi and adventure," said writer Chuck Brown. "Like many of us, as a kid I was obsessed with Mars and the other planets in our solar system. Barsoom has such amazing characters and backstories. So it's a huge opportunity for George and I to play in this world."
Dynamic illustrator George Kambadais (Firefly) joins Brown in Dynamite's next arc in the saga of Edgar Rice Burroughs' world-famous hero. Kambadais will also be coloring himself. Fans can see his character designs below, with fun alternate backgrounds for Earth and Mars.
John Carter and his mythos were created in the early 20th century, yet the character is pulled from the Civil War era. Known for his work on titles like Bitter Root and Black Manta, writer Chuck Brown is known for artfully weaving in commentary into his stories, with a plan to approach John Carter with that same perspective. Plus plenty of action, explosions, and all the profanity that Dynamite will let him get away with!
The long storied history of gorgeous covers for novels, comics, and more featuring the stories of Barsoom continues in this new series. Junggeun Yoon, Jonathan Case, and a cosplayer contribute covers. Plus two by Dejah Thoris all-star Joseph Michael Linsner and interior artist Kambadais.
JOHN CARTER OF MARS #1 is slated for release in comic book shops in April 2022. It will also be available for individual customer purchase through digital platforms courtesy of Comixology, Kindle, iBooks, Google Play, Dynamite Digital, ComicsPlus, and more!