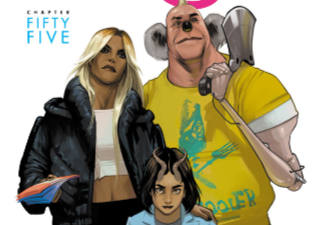 "Other than my own family, collaborating with Fiona Staples on Saga is the most important thing in my life, so I can't thank readers and retailers enough for their patience," said Vaughan. "I think our next 54 issues will be even more shocking, strange, and spectacular than the first 54, so we can't wait to be back on the shelves at your local comic shop soon."
Staples added: "I've really missed connecting with readers through the pages of Saga, so I'm thrilled to roll up my sleeves and dive into this world again. The next arc is already going places I never imagined. I'm so grateful that we're able to keep doing this!"
At long last, Hazel and her star-crossed family are finally back! But where the hell have they been? As thanks for fans' endless patience, the Saga team is proud to return with a double-length issue—44 pages of story for the regular $2.99 price point—without variant covers or gimmicky renumbering. Just more pulse-pounding adventure, heart-wrenching character drama, and gloriously graphic sex and violence, as Saga begins the second half of the series and the most epic chapter yet.
"Saga launched at Image during the company's 20th anniversary in 2012, so it seems more than fitting that the series is returning to shops just in time for our 30th anniversary next year," said Eric Stephenson, Chief Creative Officer and Publisher at Image Comics. "I can think of few better ways to celebrate what Image is all about than by welcoming back one of the most incredible storytelling teams in comics history as they embark on the second half of a true epic-in-the-making."
Saga has sold seven million copies to date across single issue, trade paperback, compendium, hardcover, and digital editions and has been translated into 20 languages. The series also boasts multiple Eisner Awards, Harvey Awards, a Hugo Award, British Fantasy Award, Goodreads Choice Award, Shuster Award, Inkwell Award, Ringo Award, and more. It has been featured in such mainstream media outlets as TIME, Entertainment Weekly, The Atlantic, NPR, and more. The series has become a pop culture phenomenon and has been immortalized with references and easter eggs appearing in such popular TV shows as Supernatural, The Big Bang Theory, and The Simpsons.
Saga #55 will be available at comic book shops on Wednesday, January 26. Saga is available for purchase across many digital platforms, including Amazon Kindle, Apple Books, and Google Play.