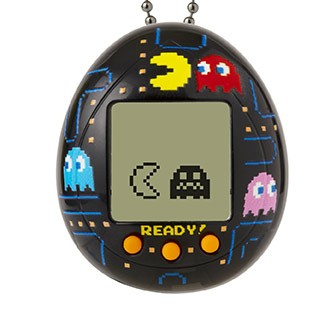 Tamagotchi, a household name and one of the largest toy brands of all time is no stranger to collaborations. This year, they've teamed up with PAC-MAN to bring fans a new experience in honor of PAC-MAN's 40th Anniversary celebration! The Tamagotchi device will star PAC-MAN as the virtual pet character with iconic PAC-MAN features.
The new PAC-MAN Tamagotchi will be available for pre-sale on January 23, 2020 and on store shelves from March 15, 2020!
"Tamagotchi has been an incredible brand for Bandai America for over 22 years! Our 2019 Tamagotchi On release has proved to be a great success and it only made sense to bring two of the most iconic brands together for this huge celebration!" said Tara Badie, Bandai America Marketing Director.
The PAC-MAN Tamagotchi is perfect for on-the-go entertainment. It fits easily into pockets or bags and it even includes a wearable keychain allowing kids to tend to their PAC-MAN Tamagotchi wherever they go!
PAC-MAN Tamagotchi Features:
Raise and nurture your Tamagotchi character with the help of PAC-MAN
PAC-MAN will save your Tamagotchi character from the ghosts and bugs
Feed your Tamagotchi rice or PAC-MAN's favorite, cherries
Raise your Tamagotchi character from egg to baby to adult
7 adults included, which is determined by how you take care of your PAC-MAN Tamagotchi character
Two fun mini-games: play the Pac Game and the Catch Game!
Two different shell styles to choose from
Two PAC-MAN mazes to choose from: yellow and black
Age grade: 8+
Battery (LR44) included
No WiFi needed
The PAC-MAN Tamagotchi also comes in a Deluxe Assortment that includes a PAC-MAN case to protect your device!