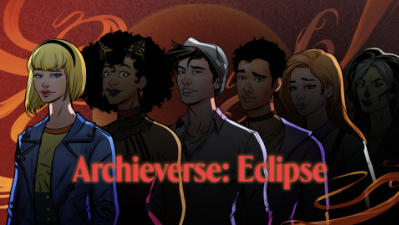 For over 80 years, Archie Comics has shaped youth culture and fan communities. Now, generations of Archie stories are creating the foundation for a new chapter: one that's co-created by fans. On May 16th's Blood Moon, Archie Comics will drop the Archieverse: Eclipse collection: a PFP project inspired by The Chilling Adventures of Sabrina.
Priced at $66.66 each and created by Archie Comics, Palm NFT Studio and Archie artists Laura Braga and Vincezo Federici, Archieverse: Eclipse spans 66,666 generative characters and 3,000,000,000 outcomes linked by an ominous prophecy. What happens next is up to fans.
Marking a major milestone in comic book history, Archie Comics is leveraging the blockchain to empower fans to author future series; incorporating fan-generated art and stories into the Archieverse, and directly rewarding contributors for their creativity. Archiverse: Eclipse collectors will be able to create and submit new storylines for their characters; with the opportunity to see their work become canon. The creators of selected submissions will be granted story credits and more from future comic series integration.
For Archie Comics, generative storytelling is empowering a future co-created with fans around the world; a blockchain-based writer's room that makes participation in the series radically accessible. This approach to community-driven innovation is a natural step in the evolution of a brand that's transformed representation by introducing one of comic's first gay characters, and shifted the landscape of TV with Riverdale.
Archie CEO Jon Goldwater says, "Archie Comics has been a beloved part of millions of households around the world for over 80 years. We began our life as a comics publisher and brought the world a cast of characters and storylines that readers of all ages could relate to, taking care to be inclusive as the world grew and changed around us. When we launched Archie Horror in 2015, we paved the way for our evolution from a premier publisher to a world class entertainment brand when we brought the world to Riverdale through six seasons so far. As we watched the emergence of this exciting new technology, and a new fandom growing around it, we knew we had to find the right partner and platform to introduce Archie 3.0; with the same care and consistency that we have established in everything we do. We cannot wait to introduce the gang to a whole new audience in a whole new way."
To bring comic IP into Web3, Archie Comics chose Palm NFT Studio because of their proven track record of fostering Web3 creativity, mechanics, and economics, and their commitment to brand safety, an essential when working with large-scale IP and fan co-creation.
"I remember getting Archie Comics from the grocery store check out aisle as a kid, and now we're launching a collective storytelling project so ambitious it will set a new precedent for comic books," said Co-Founder and CEO of Palm NFT Studio Dan Heyman. "Helping brands like Archie Comics sustainably unlock the potential of Web3 is exactly why we created Palm NFT Studio, and I want to thank everyone on our creative and development teams who worked so hard to make this next step in the evolution of community-driven collectibles possible."
From eight decades of history, Archie is writing a Web3 future with fans. Will communities be able to crack the prophecy contained in the Archieverse: Eclipse NFTs? What stories will emerge to shape and shift the Archieverse? And how can fan co-creation move comic culture forward? The answers to these questions begin on May 16.