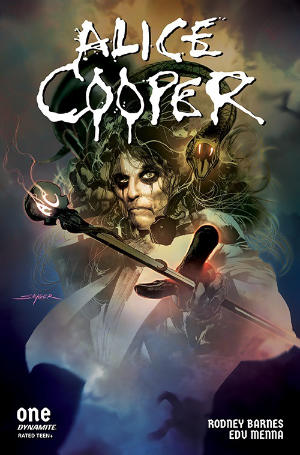 Dynamite announced that the award-winning writer Rodney Barnes is taking on the living legend of Rock N' Roll, Alice Cooper. This exciting new series has Barnes teaming with Edu Menna who is known for his work on KISS, Barbarella and Starfinder. And the whole thing kicks off this October!
Alice Cooper is no stranger to comic book fans as the iconic rocker has been popping up in the four-colored pages since the seventies. But in this new tale of terror, legendary rock acts are being attacked by demonic forces and Alice starts to notice some of his own fans happen to be… undead.
According to Barnes: "The forces of evil are looking for a different entry point to dealing with the forces of light. The conflict is driven by envy on the musical front, but there's something more insidious beneath it all."

The writer/producer of The Boondocks, My Wife and Kids, and Winning Time: The Story of the Los Angeles Lakers was well aware of Alice Cooper's pulse-pounding music.

"He used to come on a lot of talk shows and such and was a prominent figure on the radio stations my mom listened to. She bought a lot of Alice's albums and I listened to them. "School's Out," "I'm Eighteen," and "No More Mr. Nice Guy" stand out as tracks I dug. I was also attracted to his look and stage presence."

Among the start-studded crew of cover artists for this series is Barnes' frequent collaborator from their hit comic series Killadelphia, Jason Shawn Alexander. Plus, the incredibly talented Stuart Sayger and Andrew Mangum join in, along with a photo cover of the bombastic lead singer and a blank cover so fans can get original sketches done. And all of these covers will be cardstock!

Alice Cooper is an American rock performer whose career spans over 50 years and who specializes in a theatrical stage show that features pyrotechnics, guillotines, electric chairs, fake blood, and dueling swords. Multiple generations have rocked out to his iconic hits and persona. His forays into the realm of comics go back nearly just as far too, starting with a special release from Marvel Comics in 1979. He co-created the graphic novel The Last Temptation with legendary writer Neil Gaiman and artist Michael Zulli, and has been featured in two series to date with Dynamite, with one pitting him against the Chaos! universe of characters. Dynamite has kept these past stories in print, and fans checking out the new series are encouraged to seek them out too.
ALICE COOPER #1 is slated for release in October 2023.