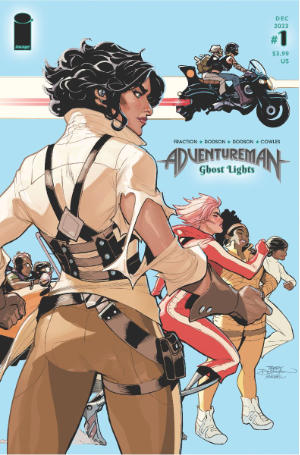 Bestselling creative trio—writer Matt Fraction (Sex Criminals, Hawkeye), artist/colorist Terry Dodson (Red One, Harley Quinn), and inker Rachel Dodson (Red One, Harley Quinn)—join forces for an all-new Adventureman chapter in the upcoming, Adventureman: Ghost Lights. This two issue story arc is set to launch this December from Image Comics.
When the Good Guys of the Golden Age come back, all their ghosts follow—now Claire, the new Adventureman, and her maybe-beau Chris, the new Crossdraw Kid, defend peace on earth from a phantom empire of crime!
"We're thrilled to be back in the ADVENTUREVERSE and having Claire and the rest of the ADVENTURE gang back in stores," said Dodson.
Fraction added: "Working on this rip-roaring pulp epic of high adventure is the most fun I've ever had writing a comic, and I can't wait for everyone to see what Terry, Rachel, and I have been cooking up next for Adventureman!"
Adventureman: Ghost Lights #1 will be available at comic book shops on Wednesday, December 20. It will also be available across many digital platforms, including Amazon Kindle, Apple Books, and Google Play.