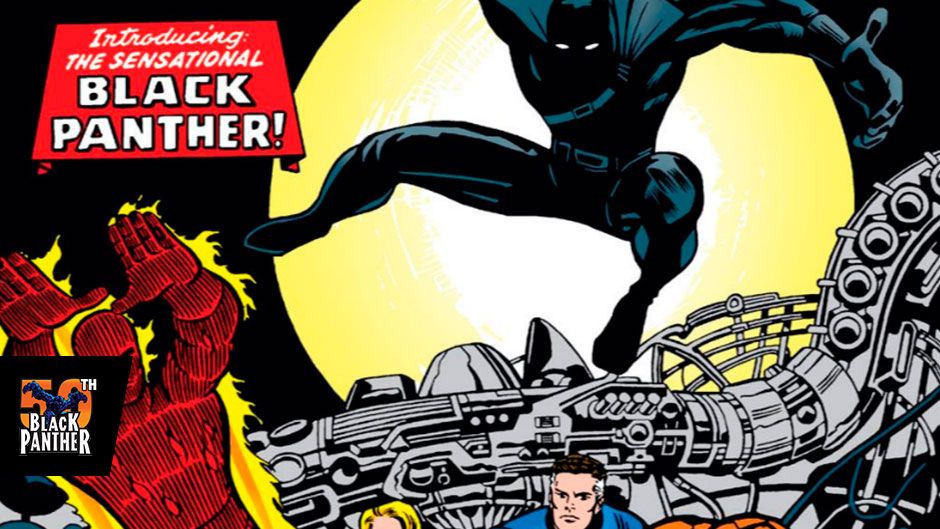 Read through some of T'Challa's most thrilling adventures on Marvel Unlimited to mark Black Panther's 50th anniversary!
Anytime you celebrate a big anniversary or birthday, it seems natural to look back at a person's early days. In the case of T'Challa, otherwise known as the Black Panther, his very first appearance came in 1966's FANTASTIC FOUR #52 thanks to the always fertile minds of Stan Lee and Jack Kirby.
Instead of simply introducing himself to Marvel's first family, T'Challa sends an advanced flying craft to pick them up and bring the team—plus Johnny Storm's college roommate Wyatt Wingfoot—to Wakanda, a technological jungle in the heart of an actual one. As the team disembarks from the craft, their guide disappears only to be replaced by the Black Panther himself who boasts that he can hunt them down and capture them in five minutes. Thanks to a series of pre-designed traps, T'Challa nearly succeeds but for the intervention of the unplanned for Wingfoot. Wyatt frees Johnny which leads to an early and unexpected end to the hunt.
The story carries over into FANTASTIC FOUR #53 which finds The King of Wakanda now playing gracious host instead of attacker. After admitting to be one of the richest men in the world, he explains that the Black Panther identity exists as part of his people's culture and that his powers come from special herbs and training. He also reveals how his father died because of Ulysses Klaw and that Wakanda plays sole home to Vibranium, a sound absorbing metal.
Meanwhile, strange red creatures attack various people on the island including our heroes. Eventually we come to find that Klaw's return to the African nation comes as the direct result of wanting more Vibranium as well as revenge on the young man who took his hand. His inventions use the material to create physical objects out of sound, but they're no match for the Fantastic Four and the villain himself soon falls to the might of the Black Panther.
By the end of the issue, T'Challa feels that his life's mission has come to a close, but the Fantastic Four encourages him to continue using his amazing abilities for the good of the world. "I shall do it," he agrees. "I pledge my fortune, my powers—my very life—to the service of all mankind." And thus, the Marvel Universe and Marvel readers came to know a hero who continues to show what unbridled intelligence, bravery and fortitude look like.
Secrets of Wakanda
At the end of FANTASTIC FOUR #52, Klaw actually jumps into his Sound Transformer machine and emerges as a red-clad super villain in #56. As he attacks Sue Storm he reveals that his body now consists purely of sound. Though Black Panther only appears on a monitor in the issue, he does send Mr. Fantastic a pair of Vibranium "brass" knuckles to literally beat Klaw into submission. The villain, of course, eventually returns to menace the team and Black Panther many more times both alone and as a member of the Frightful Four and the Masters of Evil in various incarnations.
For an even more expanded look at the Black Panther's history, return next time for AVENGERS #87 by Roy Thomas, Frank Giacoia and Sal Buscema.
Read More »