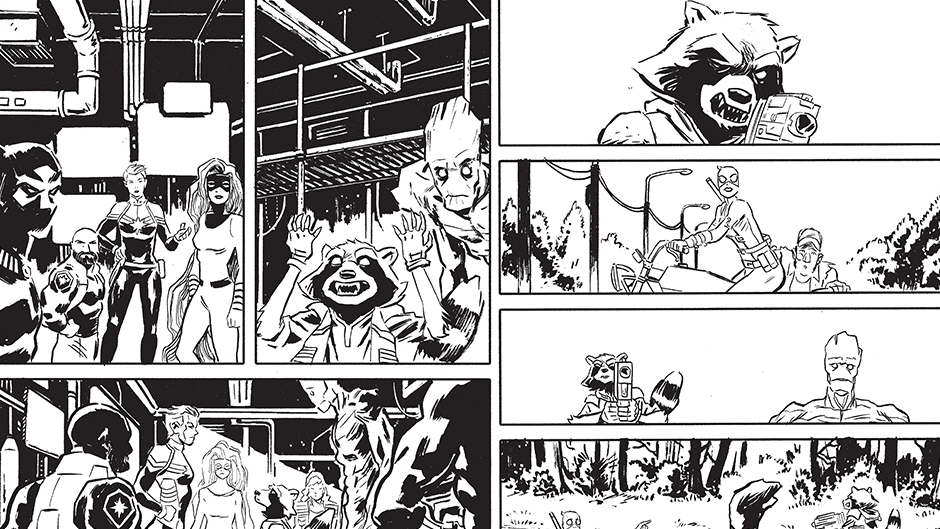 Earth might plunge into war every now and then, but what's it to a pair of space-hopping pals like Rocket and Groot? Not much until none other than Captain Marvel calls on them for a little help.
Writer Nick Kocher and artist Michael Walsh just took over ROCKET RACCOON AND GROOT with issue #7 and already face a huge challenge: bringing the best buds in the galaxy into the fray of Civil War II. Of course, being the mercenary-minded sentients we know and love, they don't quite feel the need to get tangled up in human affairs. Still, as Walsh explains, when a certain hero asks, you kind of have to listen. But which side will they ultimately fall on, if any?
We talk to Walsh about balancing comedy and action, working with Kocher, and designing Rocket and Groot in his own style.
Marvel.com: You and Nick kicked off a whole new arc together on this book with issue #7. How has it been putting your own stamp on these characters and moving them into Civil War II?
Michael Walsh: It's been a blast and a bit of a challenge. Every take on them has been so unique, I just really wanted to leave my fingerprint on this world. There is a definite balancing act when trying to make them look like a raccoon and a tree but still emoting and speaking like humans.
Moving them into Civil War II has been really fun. It's such a serious—and great—event that throwing in some absolutely zany action and comedy into a pretty serious clash of super heroes has the little mischievous kid in me giggling. Also, I've learned that I love drawing the Inhuman Medusa, so there is that.
Marvel.com: Speaking of Civil War II, what does the conflict do to the title team's partnership?
Michael Walsh: These two dudes are actually actively trying to stay away from the conflict. As usual, they are more interested in misadventure and their own problems than getting wrapped up in the politics of the core Marvel Universe, but that doesn't really matter when Captain Marvel is trying to drag them into the fold.
Marvel.com: What attracts you to the world of Rocket and Groot?
Michael Walsh: The sense of fun and adventure is really refreshing to me. For a while comics were pretty grim [and] dark and I enjoyed that stage but now we get to have all these genres and styles and atmospheres. Getting to draw characters having fun and being crazy is a nice change of pace. It's great to mix it up once in a while and flex all kinds of artistic muscles.
And honestly these two characters are just so fun to draw; Groot I kind of felt at peace with right away but Rocket took me a little bit to find the feel for. Once I did he has become one of my favorite characters to draw.
Marvel.com: It sounds like you enjoy balancing huge action scenes with comedy bits from panel to panel.
Michael Walsh: Yes, it's great. In this one I get to incorporate little comedy beats into the action as well which is always challenging yet rewarding. I can really play up the dynamism and get experimental with panel layouts and really just have fun. Having Gwenpool enter the fold makes it even wackier; we got to do a bit of a motorcycle chase which I haven't done before so It was a good experience figuring that out and trying to express speed and motion in a static medium.
But really, action and comedy are two sides of the same coin. As an artist you are trying to build around the most important beat on the page, the punchline. Sometimes you want to hit it subtly while others you want to go huge. A giant punch to the gut smashing a guy through a window or a hilarious one liner can have a really similar build up if you look at the details.
Marvel.com: Nick's pretty new to the world of comics. How has it been working with him so far?
Michael Walsh: Nick is a natural. His scripts are fantastic. I find myself laughing out loud constantly while reading. He has a sense of how much can fit on a page and is really well versed in the history of Marvel. He also has a really distinct voice which I always appreciate from a writer. I don't think anyone could write this book like he did which is a huge compliment. He's been really open about when he was unsure of the pacing on a page and we've been able to lean on each other to get the best book possible on the stands.
Besides being a hell of a writer he's a really nice guy too, we get on quite well which I find is important when getting invested in a collaboration. I've loved our four issues together and am really hoping to work with him again in the future.
Marvel's best buds continue their adventures in the pages of ROCKET RACCOON AND GROOT thanks to Nick Kocher and Michael Walsh, with issue #8 coming August 31!
Read More »